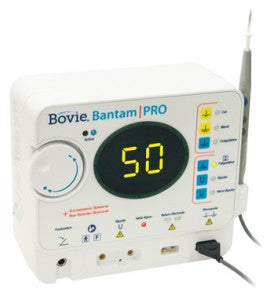 Bovie Bantam PRO A952 High Frequency Desiccator w/ cutting ability.
    ---------------------------- SEE BELOW -------------------------------   




 







The Bovie Bantam PRO Electrosurgical Generator (A952) comes standard with:

3-Button Power Control Pencil 
(2x) Non-Sterile Disposable Handpiece Sheaths 
(2x) Sterile Disposable Handpiece Sheaths 
(3x) Sterile Disposable Blade Electrodes
Sterile Disposable Needle Electrode 
Sterile Disposable Ball Electrode 
(5x) Disposable Non-Sterile Sharp Dermal Tips 
(5x) Disposable Non-Sterile Blunt Dermal Tips 
(2x) Disposable Derm-Elite Non-Sterile Dermal Tips
(2x) Disposable Sterile Sharp Dermal Tips 
(2x) Disposable Sterile Blunt Dermal Tips 
(2x) Disposable Derm-Elite Sterile Dermal Tips (
(2x) Reusable Grounding Cords 
(5x) Disposable Split Grounding Pads .
Wall Mount Kit 
User's Guide in CD Format ).
110 VAC Hospital-Grade Power Cord (15 ft).
Bovie Generator:

50 Watts - Cut, Blend, Coagulation.
Isolated power.

The high frequency desiccator half of the unit is an upgrade to the popular Aaron 940.
Three Modes of Operation:

The A952 Generator offers you up to 50 watts in Cut mode, Blended Cut mode, and Pinpoint Coagulation mode.
Simplicity is achieved using easy-touch, color-coded membrane pads, and by placing all user controls and outputs on the unit's compact front panel.
The ergonomic arrangement of commonly used operating functions, plus a large, comfortable rotary dial, provide quick operating-mode selections and smooth power control with the option of adjusting the power of the handpiece.

Procedural Confidence:

The surgical handpiece fits comfortably in your hand and, when not in use, rests conveniently in a holder specifically designed to minimize contact with the unit. The handpiece holder safely isolates the instrument from the medical team, patient, and unit.
All industry-standard 3/32" (0.24 cm) disposable and reusable electrodes fit the A902 handpiece. Handpieces may be autoclaved for greater operating efficiency and maximum cost control.
When in electrosurgical generator mode, the unit features Bovie NEM pad sensing technology which monitors the contact quality between the patient and the return electrode for optimum patient protection from burns.
Post-procedure cleanup is simple (and fast) due to nonabsorbent ABS enclosures and the use of liquid resistant membrane switches that can be wiped clean with a damp cloth.

High Frequency Desiccator:

 

It is a ground referenced machine that does not require the use of a return pad. It gives you precision Fulguration up to 40 watts and Bipolar power up to 40 watts. All power settings are adjustable in 1/10 watt settings from 0.1 - 10 watts.
Change Power in One Step, Not Four:

 

The doctor can change the power setting with one action, using the up/down buttons on the autoclavable handpiece or the rotary power-control dial. This saves time and protects the sterile field during sensitive procedures.
Foot Control Advantage:

 

One simply needs to plug in the optional footswitch to use the foot control feature. There is no expensive separate handpiece.
 

 

Line Frequency:

 

50 - 60 Hz.
Output Frequency:

 

304 - 451 kHz.
Line Voltage:

 

100 - 240 VAC.
Contact Monitoring Systems:

BovieNEM.
10 ohms or less over entire operating range.

Range/Trip Point:

 

10 to 40 °C.
Cooling System:

 

Passive Cooling.
Technology:

 

Isolated RF Output.
Dimensions:

 

4.13" (D) x 8.98" (W) x 7.4" (H) (105 mm x 228 mm x 188 mm).
Weight:

 

5 lb (2.26 kg).