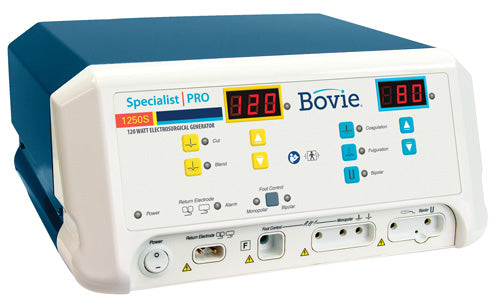 Bovie Specialist PRO A1250S
    ---------------------------- SEE BELOW -------------------------------   




 

| | |
| --- | --- |
| | The Bovie Specialist PRO Electrosurgical Generator A1250S includes a Sterile, Disposable, Electrosurgical Push Button Pencil, Sterile, Disposable Blade Electrode, Sterile, Disposable Needle Electrode, Sterile, Disposable Ball Electrode, (5) Split Disposable Return Electrodes - Non Corded, (2) Reusable Grounding Cables, 110 VAC Hospital Grade Power Cord (15 feet), 220 VAC Hospital Grade Power Cord (15 feet), and a User's Guide. |
Large illuminated digital displays.
Ample raised push button power-controls provide rapid power adjustments.
Five Output Modes:

 

Cut, Blend, Pinpoint Coagulation, Fulguration, and Bipolar.

Pinpoint Coagulation: Provides precise control of bleeding in localized areas.
Fulguration: Provides greater control of bleeding in highly vascular tissue over broad surface areas.

Monopolar and bipolar capabilities.
Self-Test Circuits:

 

Continually monitor the unit to ensure proper performance.
Audible alert tones.
Discreet outputs (FCFS - First Come First Served).
Memory:

 

The unit automatically powers up to the last selected modes and power settings.
Isolated RF Output Circuitry:

 

Minimizes the potential of alternate site burns.
BovieNEM (Neutral Electrode Monitoring):

 

Increases patient safety by ensuring proper pad connectivity during procedures.
BovieDED (Digital Error Detection):

 

Monitors all functions of the generator to ensure constant safety for the patient, doctor, and staff.
Compatible with most industry-standard accessories, providing energy versatility across a variety of specialties such as OB/GYN, urology, plastic surgery, dermatology, ER, and more.
Opportunity for additional revenue streams.  
 

 




Line Voltage:

 

100 - 240 VAC.
Line Frequency:

 

50 - 60 Hz.
Weight:

 

9 lb (4 kg).
Dimensions:

 

12" (L) x 10.25" (W) x 6" (H) (30.5 cm x 26 cm x 15.2 cm)